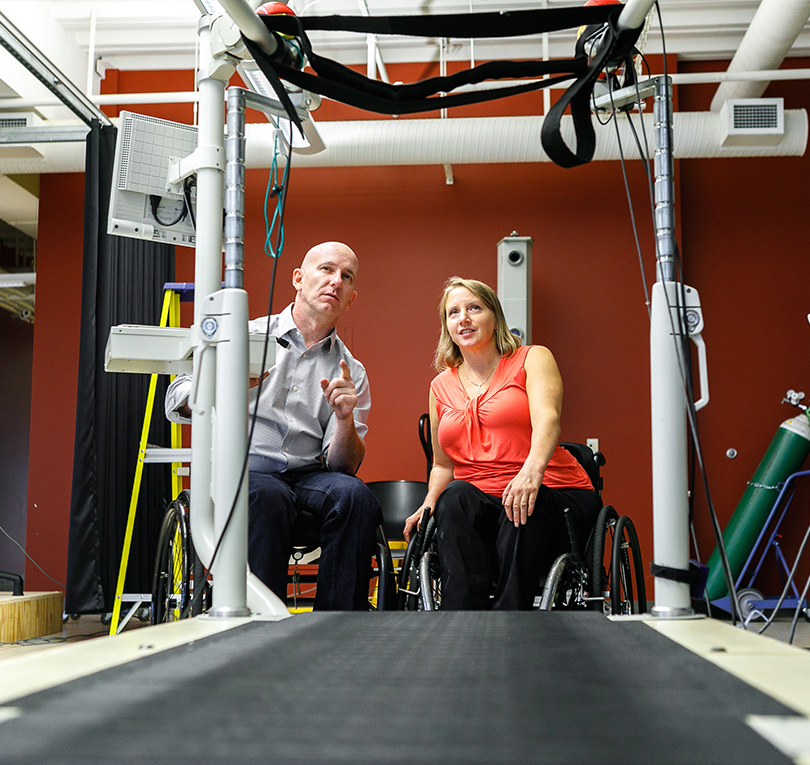 Program Description
Praxis Spinal Cord Institute is proud to launch the Praxis SCI Accelerate Program, a 12-week acceleration pilot program for health start-up companies with solutions that address care- and cure-related treatments and overall quality of life of individuals with SCI.
Located in Vancouver, Canada, the program is designed for post-prototype companies to scale their innovations quickly. We pair our expertise in SCI research, knowledge translation, direct consumer engagement and commercialization, with specialized coaching in regulatory and reimbursement advice, as well as helping build on your market validation and sales strategy. Through the 12-week program, our hand-picked mentors and team will work closely with you to get ready to pitch to Canadian and US vendors (including hospital systems, investors and other buyers) through 1:1 matching as well as a demo day.
The program will not only provide tailored mentorship through office hours with hand-picked mentors but will also provide access to Praxis' global network of SCI research, donor and investment organizations to help build your international market strategy across developing and developed markets.
Download the Program one-pager (pdf)
Guidelines for Business Visitors in Canada (pdf)
What We Look For
Our criteria for accepting companies for this program includes:
Demonstrated application to impact SCI outcomes (functional mobility, neuro-restoration, secondary complications (i.e bladder and bowel complications, neuropathic pain, pressure injuries) or overall quality of life)
MVP completed, TRL 7 (TRL 5+ considered)
1 minimum full-time founder
Ability to relocate at least one member of the leadership team to Vancouver for the 12-week program
Legally incorporated or planning to incorporate in Canada
Existing traction or target to reach traction in the next 12 months (e.g. planned pilots or sales pipeline)
Business plan which includes the following:

Intended impact on SCI patients (# patients served, type of impact, significance of impact)
Description of the solution
Competitor analysis (what is unique about your solution)
Financial statement and sales forecast
Marketing/customer acquisition strategy
Exit strategy
Product roadmap
Capital plan and raise
Company team
Program Highlights
Program runs from April – June 2020 (12 weeks)In residence program, located in Vancouver, BC
$50K- $100K seed funding provided ($50K initial block of funding will be provided to all entry companies. Within three months following the program, should the company have met key business/growth objectives, further funding may be provided
Cohort of maximum five companies accepted for our pilot cohort in 2020
Companies with a clear medical application to SCI care- or cure-related treatments required
Key Dates
Application open: December 9, 2019
Deadline to apply: February 10, 2020
Review process: February 10 – 20, 2020
Interviews: February 10 – 24, 2020
Notice of decision: March 05, 2020
Program begins: April 2020
Application Process
* Applications are now closed.
All applications will need to be submitted via the Survey Monkey link. All files (business plans and pitches) will need to be under 15MB and uploaded on the site. Video links (with secure YouTube links) should be provided. Should you have any concerns regarding the receipt of your application, please email SCI_Accelerate@praxisinstitute.org. Should you have any issues uploading the correct files, you may attach your files and send directly to SCI_Accelerate@praxisinstitute.org, as long as the files follow the size limits and are not provided as links (except for the video).
Application review and selection process:
Your application will be reviewed by an SCI researcher, clinical lead, a consumer (individual with lived SCI experience and expertise in the SCI consumer market), a commercial lead (entrepreneur with a track record of successful company scaling) as well as our network of mentor-advisors with an experience in healthcare investments.
If your application is selected as part of our shortlist—we will schedule a 1 hour interview with our panel of experts. Given scheduling, this interview may occur in two parts to make sure all members of our panel have reviewed your program.
Following the interview, you will be informed, by March 3, of your selection in the program.
Application Disclosure
If you apply to the Praxis SCI Accelerate Program, we will collect personal information about you, information relating to your company, and why you are applying for the program. We use this information for the purposes of processing and responding to your application, including assessing the suitability of your company for acceptance into the program. If you provide us with personal information about any other individual (such as your co-founder(s) or partner(s)), you confirm that you have obtained the consent of such individual(s) prior to providing any personal information to us.
If you have any questions about our privacy policy, the personal information we hold on you, or you would like to exercise one of your privacy rights, please do not hesitate to contact us at araina@praxisinstitute.org.
For general questions pertaining to the Praxis SCI Accelerate Program, please email SCI_Accelerate@praxisinstitute.org cc'ing dcorreia@praxisinstitute.org.