A Shining Example of Integration, Interdisciplinary Thinking, and Translational Research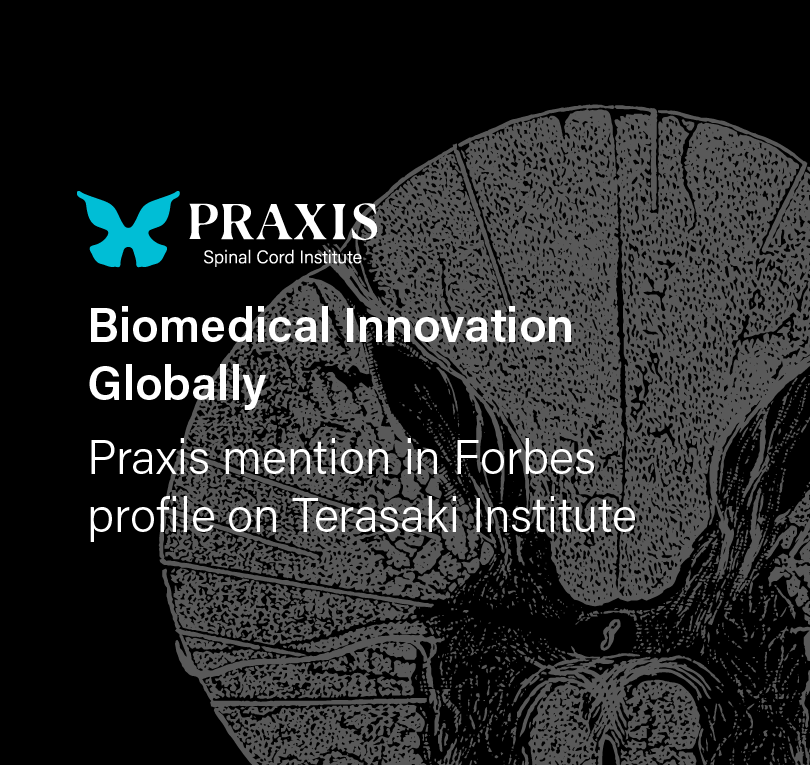 Multi-awarded global visionary and frequent Forbes contributor, Stephen Ibaraki cites the work of Praxis as a shining example of integration, interdisciplinary thinking, and translational research, moving biomedical innovation into the hands of those who need it most.
In an article for Forbes Ibaraki examines the vision and legacy of Dr. Paul Terasaki, which live on in the work of TIBI. The institute operates three research facilities expanding from its original base with UCLA (University of California, Los Angeles). The non-profit continues his legacy for biomedical innovation.
Read more in Ibaraki's Forbes article here: https://www.forbes.com/sites/stephenibaraki/2022/05/13/terasaki-institute-top-biomedical-innovations-transforming-the-world-in-2022/
"From a practical use case, SCI (spinal cord injury) research and solutions, are heavily integrated in interdisciplinary work in biomedical innovation," he writes. "Bill (Barrable), from his prior work as CEO of BC Transplant, is intimately familiar with and utilized the pioneering work and leadership of Dr. Paul Terasaki and Arushi (Raina) speaks of the utility of the solutions offered by the present-day Terasaki Institute (TIBI) in SCI."
Praxis CEO Bill Barrable and Director of Commercialization Arushi Raina were interviewed recently by Ibaraki in his research for this article highlighting the pioneering innovation coming out of the world-acclaimed Terasaki Institute for Biomedical Innovation (TIBI). Terasaki Institute Top Biomedical Innovations Transforming The World In 2022
Ibaraki notes that SCI integrates technologies focused on the person in areas such as wound healing, brain computer interfaces (BCI) and neuro brain research, preventing pressure injury through electrical stimulation, VR /AR (mixed reality) and extended reality, AI and sensor technologies, robotics and exoskeletons for mobility, stem cells and regeneration.
"More generally this is about translational research, which is moving beyond research and into BETA scalable practical solutions meeting specific needs. They [Praxis] have adopted a model for working with and accelerating startups," he says before directing the reader to his interview, which he describes as detailed and focused on the practical, which is the foundation for SCI.
"SCI is an ideal practical driver for biomedical innovation centered on real solutions," he concludes.