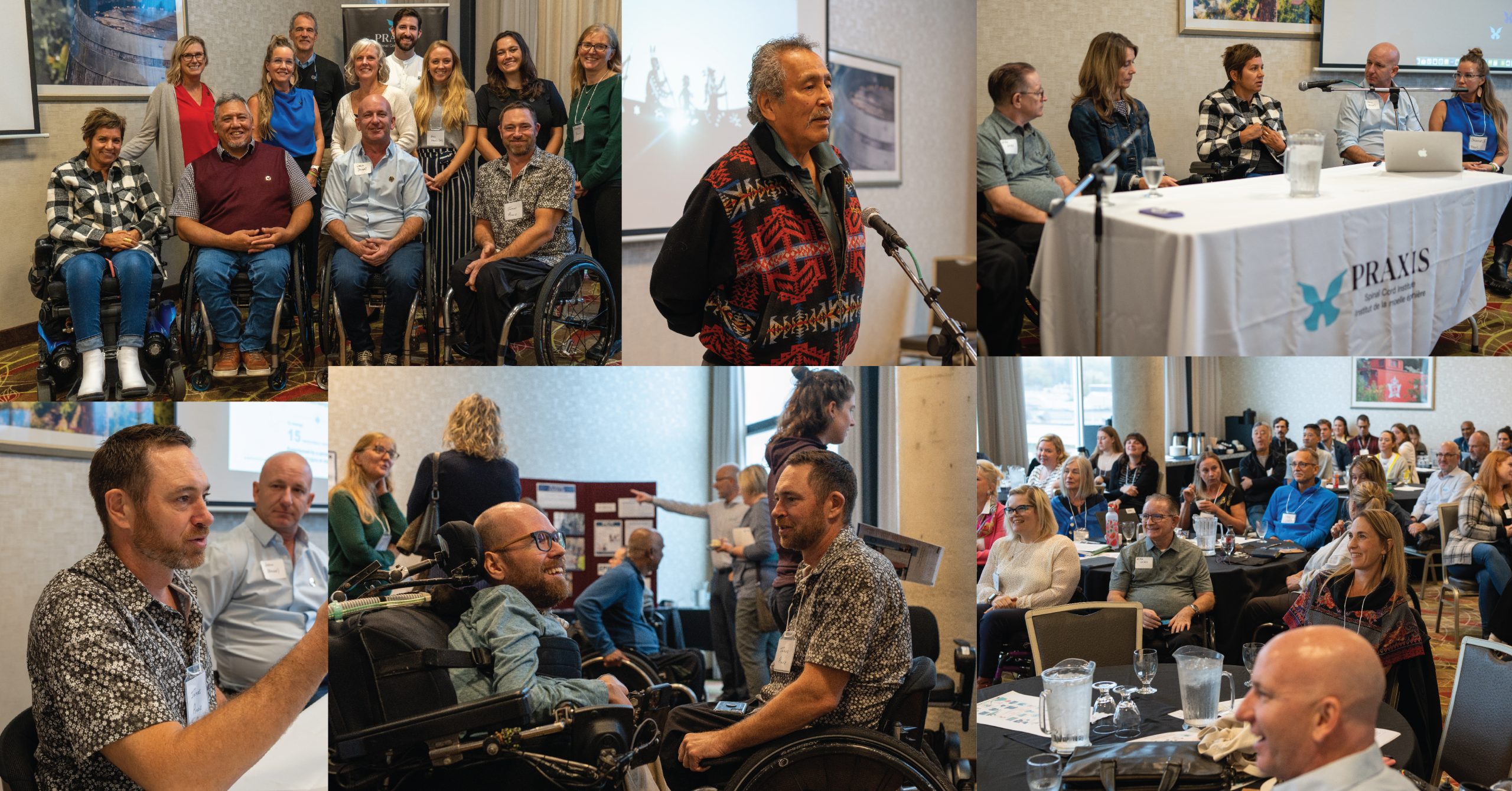 Bridging Education for Lasting Impact
Our first SCI Health Summit brought together SCI clinicians, people with lived experience of SCI (PLEX), and other SCI community stakeholders to explore how to make SCI care accessible and improve quality of life post injury. Speakers, PLEX panelists and the audience shared personal experience in facilitating knowledge exchange and bringing best practices into the community.
As a nurse who works in hospital – I would love to have an SCI protocol or autonomic dysreflexia protocol etc., that gets implemented as soon as a person with an SCI gets admitted to hospital (for procedure or emergency visit).

Feedback from attendee
The audience, in person and online, was welcomed to Kelowna by Elder Wilfred "Grouse" Barnes, Westbank First Nation, and then by Doug Cochrane, Board Chair for Interior Health. John Chernesky, Praxis PLEX Program Manager followed to explain Praxis' role in the SCI community to attendees from around the province of BC and beyond. Delegates heard from expert and lived experience throughout the day, learning more about what's needed to make best practices in SCI care accessible beyond urban centres of excellence.

Hosted by Praxis and supported by our sponsors, Coloplast and National Seating and Mobility Canada, the Summit drew on feedback from previous outreach workshops. Previous attendees spoke to the need for networks and connection, accessible services, practitioner education, and PLEX engagement as ways to improve quality of life for people with SCI.
Many thanks to all delegates and speakers, our generous sponsors, and our Praxis Regional liaisons, Shannon Rockall and James Hektner for such a successful day. Feedback from the event will be used to refine and extend the knowledge sharing workshops and improve accessibility for a future SCI Summit.
Feedback from Summit attendees:
We have to stop having healthcare siloed; [we need to] begin more cross pollination [and] start having a common understanding and processes.
The Summit far exceeded the expectations that I had for the event! It was perfectly facilitated and organized so that participants were engaged throughout. I felt the combination of presentations from PLEX folks and experts to be knowledgeable and informative. I loved that practitioners throughout the valley attended – I sat with 2 PT/OT's from Kamloops. I'd hold in a bigger venue next time.
From what I heard, people wanted accessible healthcare in the Okanagan. And just the basics, that aren't so basic for SCI, parking, accessible buildings, equipment.
Hearing directly from experts [was the strength of the summit]. Each speaker was worth a webinar or podcast