This is the breadcrumbs block. Breadcrumb will populate on actual page.
New Horizons: Innovative Technologies are Changing the Landscape of SCI Rehabilitation
Artificial intelligence (AI), wearable cameras and 3D sensors, and a mixed-reality video game.
The award recipients of the first-ever Spinal Cord Rehab Innovation Challenge, held in partnership between Praxis Spinal Cord Institute and MaRS Discovery District, are harnessing these innovative approaches to measure the impact of rehabilitation activities on improving function for people with a spinal cord injury (SCI).

All three finalists help fill a crucial gap in SCI rehabilitation research and clinical practice. Even though clinicians typically prescribe rehabilitation exercises after someone sustains an SCI, few technologies measure the impact. This makes it difficult to evaluate the effectiveness of traditional and newly-developed physical rehabilitation methods on functional improvements.
Artificial Intelligence
Researchers at KITE, the research arm of the Toronto Rehabilitation Institute with the University Health Network, received the top award of $100,000 for novel technology that employs AI to analyze video footage from wearable cameras.

The idea is that people with an SCI can put on the wearable cameras while doing rehabilitation exercises and performing activities of daily living at home. Researchers and therapists can then review the video data afterwards to understand the real-world impacts of the prescribed therapies.

"Cameras give you a window into what's happening at home," explained Dr. José Zariffa, Senior Scientist at KITE. "This provides information about the user's movements as well as the contexts for the movements. It shows us what they're doing and how they're doing it."

The KITE team is specifically focusing on hand use, because of the central role hands play in so many activities.

The tool has evolved over the last several years. User engagement has been central to the development and knowledge transfer process, with over 30 people with an SCI contributing video recordings and providing input to date and a person with lived experience on the research team.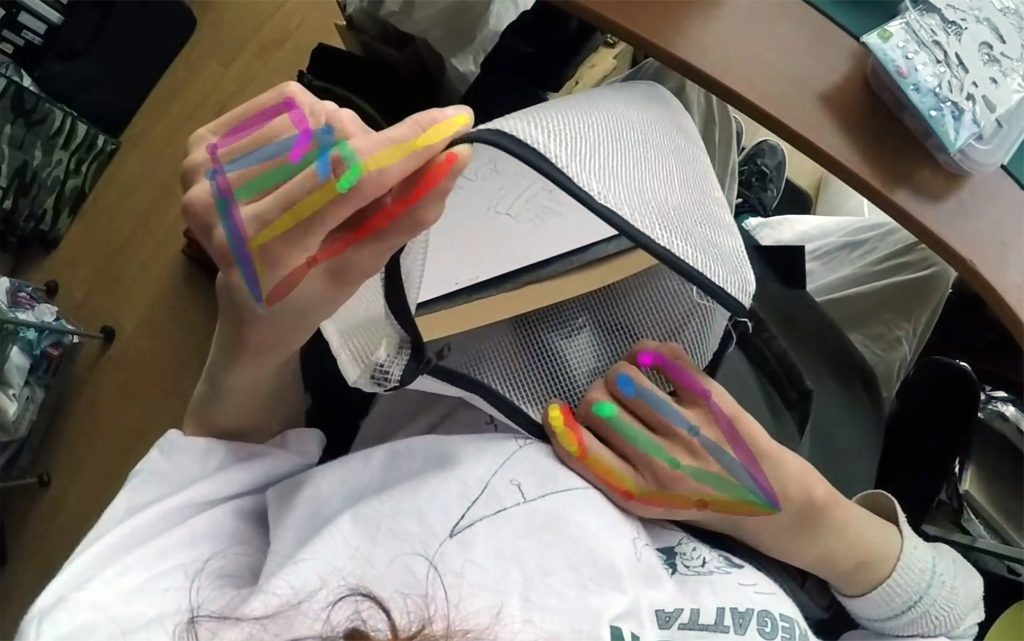 Next steps include continuing to refine the AI technology as well as determine how to best distill the vast amount of video data into a useful format for therapists, physicians and people living with SCI to help inform their decisions about rehabilitation approaches.

"We are excited to continue this work and see the impact this can have on clinical decision-making and outcomes," added Dr. Zariffa. "On the research side, this technology will enable us to better understand the impact of new therapies and devices on actual function in daily life. On the clinical side, we are going to be able to show therapists exactly what is happening at home."

Wearable Sensors

Similarly, researchers at the Neuromuscular Control and Biomechanics Laboratory (NCB-Lab) at the University of Alberta, recipients of one of the $50,000 awards, are working on wearable sensors to measure rehabilitation outcomes at home and in small clinics, including after someone has sustained an SCI.

Their proposed solution involves attaching wearable sensors to specific points of the body during rehabilitation exercises, so physicians and therapists can conduct more sensitive measurements without the participant having to go to a hospital or a clinic.

The concept was inspired by requests from clinicians and people with SCI at Glenrose Rehabilitation Hospital and has continued to be developed hand-in-hand with a wide spectrum of stakeholders and users.

"We surveyed commonly performed functional tests and developed instrumented versions of them, including balance, walking and shoulder function tests," explained Dr. Hossein Rouhani, Assistant Professor at the Department of Mechanical Engineering at the University of Alberta. "We also tested the accuracy of the measurements versus in lab technologies, then conducted clinical studies to ensure it is user-friendly."

Thanks to the Spinal Cord Rehab Innovation Challenge award, the research team will be able to pursue next steps like how to package the prototype technology into products and further move this along the commercialization chain.
Mixed-Reality Gaming for Kids
Meanwhile, Holland Bloorview Kids Rehabilitation Hospital's early-stage start-up company Pearl Interactives also received $50,000 for their innovative solution to collect data through a mixed-reality video game that engages children in rehabilitation activities.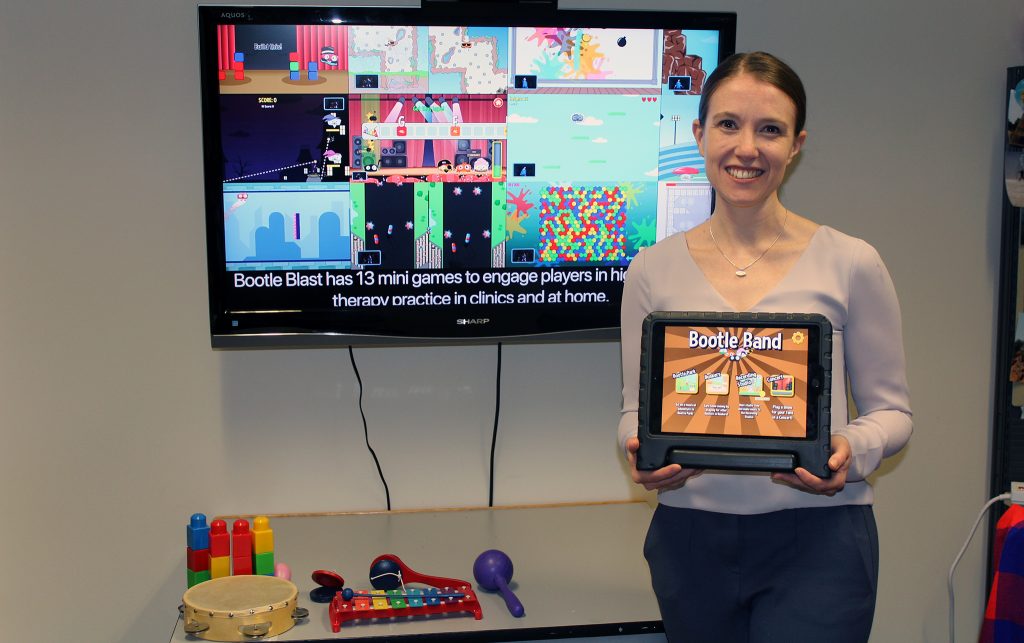 Originally created for kids with cerebral palsy, the game named Bootle Blast was adopted by clinicians at Holland Bloorview for kids with SCI, then adapted by its creators to specifically meet their rehabilitation needs. It is designed for kids six to 13 years old and engages players in themed mini games – like music, art and sport-themed games that target different movements and activities important for rehabilitation. During the game, a 3D sensor tracks 19 body points.

"The design of Bootle Blast has been a very iterative, interdisciplinary process," explained Dr. Elaine Biddiss, a scientist in the hospital's PEARL Lab, whose research led to the development of both the start-up and the game. "Developing this has involved families, clinicians, game developers, designers, artists and children media specialists. We even involved Juno-nominated composer Chris Donnelly. We really wanted to create something of mainstream quality that happens to incorporate therapy exercises as well."

To date, the game has focused mainly on the upper body. The Spinal Cord Rehab Innovation Challenge funding will allow researchers to expand it to trunk and lower body exercises. Closely working with people with lived experience, including the Spinal Cord Injury Committee at Holland Bloorview, the research team will also continue to evolve the game to ensure it delivers high value to users.

"Working with clinicians, physicians, therapy assistants and family leaders on the committee is helping us prioritize the therapy movements that we should be designing the mini games for in next iterations," said Dr. Biddiss. "It is also guiding the evaluations on its effectiveness for kids with SCI and what we can measure with the system."

The Spinal Cord Rehab Innovation Challenge was a nation-wide, open-source initiative challenge with a total pool of $200,000 made possible through funds from Western Economic Diversification Canada. The competition launched in November 2019, with a submission deadline of November 2020. The award recipients were announced in December 2020. By supporting researchers to advance novel technologies that will measure rehabilitation activities and their impact on function, the Spinal Cord Rehab Innovation Challenge ultimately aims to ensure people living with an SCI receive the best possible treatment after their injury – so they can get the best possible health outcome.
Praxis and MaRS Discovery District partnered on the Spinal Cord Rehab Innovation Challenge to propose new tools to measure rehabilitation activities and the impact on function in individuals living with spinal cord injury. Learn more about the Spinal Cord Rehab Innovation Challenge and the gaps in understanding.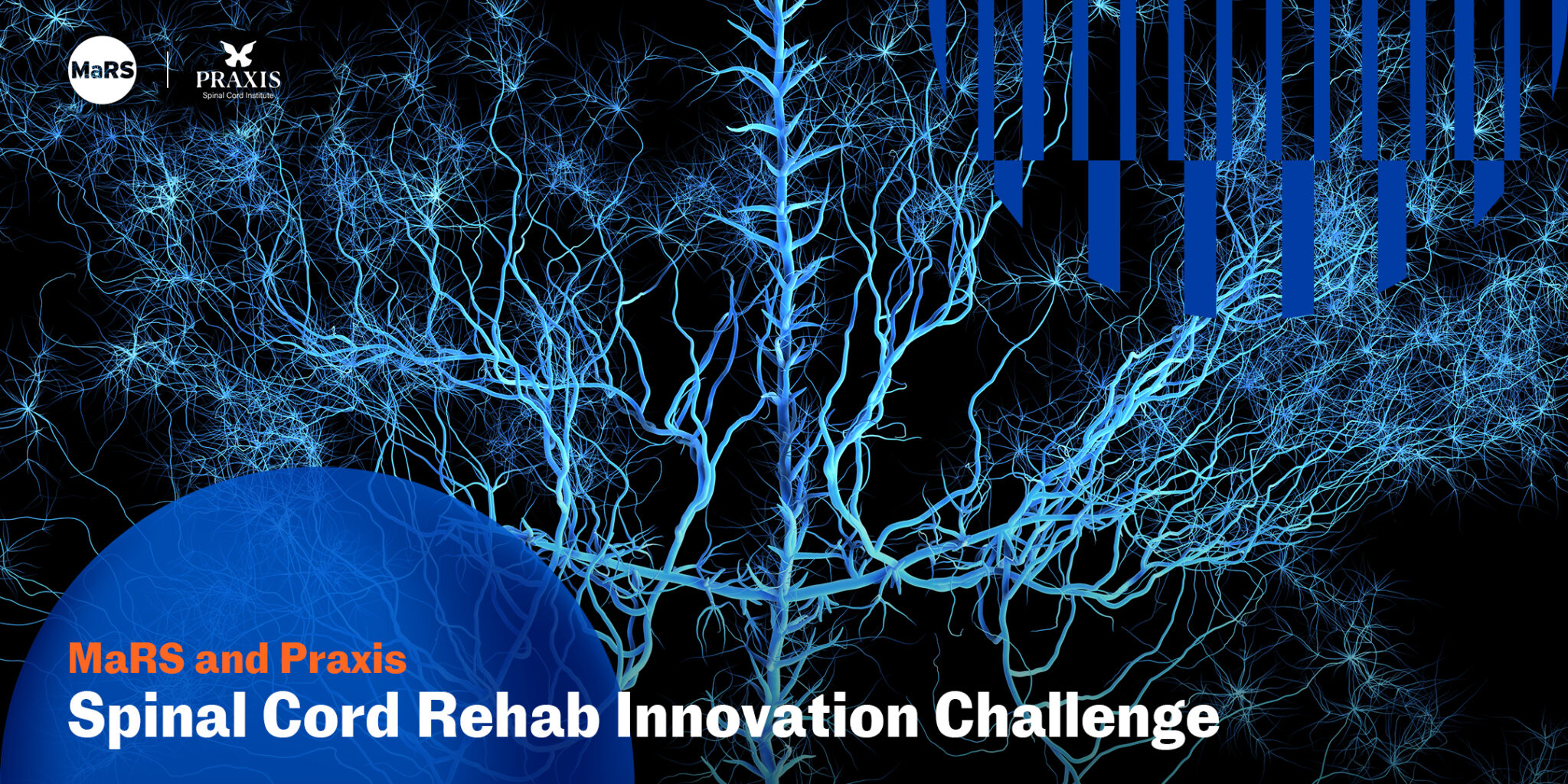 More Information
Praxis Spinal Cord Institute and MaRS Discovery District are pleased to announce the finalists of the Spinal Cord Rehab Innovation Challenge.