Praxis Welcomes New Board Members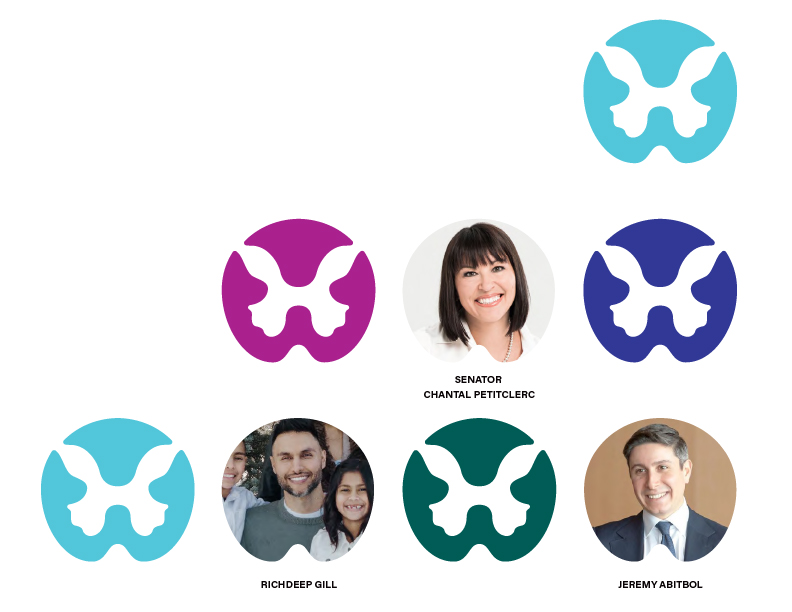 Praxis is honoured to welcome three new members to the 2020 Board of Directors.
Senator Chantal Petitclerc, Richdeep Gill, and Jeremy Abitbol enhance the Board's presence on a national scale. Their unique insights and richness of experience bring new opportunities to realize our mission.
Thank you for your commitment to improving the lives of people with spinal cord injury.
Senator Chantal Petitclerc
Senator of Canada and Canadian Wheelchair Racer
The Honourable Chantal Petitclerc is not only an internationally renowned athlete, but also a compassionate person. When she was 13 years old, she lost the use of her legs in an accident. While Petitclerc was developing her skills as a wheelchair athlete, she pursued her studies, first in social sciences at the CEGEP de Sainte-Foy and then in history at the University of Alberta in Edmonton. She overcame adversity and many obstacles to become a proven leader in the sports world. Her gold medals in the Paralympic Games, Olympic Games and Commonwealth Games, the various awards and accolades she has received, and her appointment as Team Canada's Chef de Mission for the Rio Paralympic Games are all markers of her success.
Her many achievements and her personal journey have also made her an in-demand public speaker, recognized across Canada. She has been the spokesperson for Défi sportif AlterGo for 17 years, and is an ambassador for the international organization Right to Play. A tireless advocate for the contributions people with disabilities have made to our society, she plays a definitive role in building a more inclusive society. Her example inspires people to overcome their obstacles and achieve their full potential.
Through her experiences, Senator Petitclerc has also learned a lot about the particular characteristics of various communities, as well as how decisions are made at the national level. As someone who has functional limitations herself, she has a good understanding of the needs of various minority communities and would like to ensure their voices are heard. The Senator is a Companion of the Order of Canada and a Knight of the Order of Quebec. She received the Lou Marsh Trophy for Canadian Athlete of the Year and was inducted into the Canadian Paralympic Hall of Fame. She has also received four honorary doctorates. In addition, Senator Petitclerc sits on various committees and boards of directors, where she provides her dynamic and unique perspective.
Dr. Richdeep Gill, MD PhD FRCSC FACS
Minimally Invasive Upper Gastrointestinal & Bariatric Surgeon
Assistant Professor of Surgery, University of Calgary
Peter Lougheed Hospital
Dr. Richdeep  (Richi) Gill is a Gastrointestinal and Bariatric Surgeon practicing in Calgary. Clinically he focuses on medical and surgical management of obesity. His research interests are in the management of obesity-related comorbidities with both medical and surgical treatment. He is currently the Assistant Program Director for the Calgary General Surgery Residency Program.
Jeremy Abitbol, CFA
Vice-President, Client Wealth Management, Gluskin Sheff + Associates Inc
As part of the Client Wealth Management team, Jeremy Abitbol focuses on client relationship management, portfolio and risk management, and business development of private and institutional clients. Prior to joining Gluskin Sheff in 2015, Jeremy was an Analyst at CI Financial and prior thereto, was part of the Client and Advisor Services group at CI Investments.