This is the breadcrumbs block. Breadcrumb will populate on actual page.
Smart Tech Seat Cushion Automates, Relieves and Reduces Pressure Injury Risk for Wheelchair Users
Praxis exists to lead global collaboration in spinal cord injury research, innovation and care. We translate knowledge to bridge health evidence with real-world delivery. The word praxis means the practical application of a theory – moving knowledge into action. We measure our success through impact, how Praxis makes a difference to the SCI community.
"Kalogon is Freedom"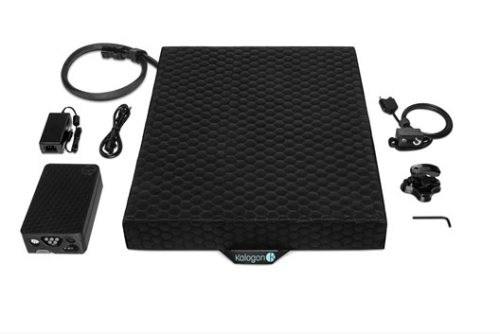 Praxis commercialization program alum, Kalogon has developed a pressure-relieving cushion that helps wheelchair users avoid pressure injuries and pain. Machine learning helps 'orbit' support around the cushion in order to redistribute bodyweight through a patent-pending air cell technology and thus avoid prolonged pressure on tissues. This tech recently received attention from Veterans' Affairs in the United States, where the cushion is being evaluated by people with lived experience (PLEX) of spinal cord injury (SCI). There's also been a successful seed funding round, emphasizing the value of this innovation, and Kalogon has also attracted federal support from the US Air Force.
Kalogon, a company operating out of Brevard County, Florida, connected with Praxis as part of the SCI incubate program 2021/2022 cohort. During their tenure, they took advantage of PLEX team mentoring to explore both additional audiences for their device and user experience feedback to further refine the technology.
Why?

Sustaining a spinal cord injury (SCI) results not only in varying degrees of paralysis and dysfunction but also lifelong exposure to secondary complications such as pressure injury. This means that for wheelchair users, sitting comfortably is more than just pleasant – it's also essential. Pressure injuries due to circulation and tissue damage issues from prolonged sitting or badly designed surfaces cause serious tissue damage. This is frequently difficult to treat without prolonged bed rest and hospitalization, both of which impact quality of life. Premature death isn't an uncommon sequel.
In order to minimize the risk of pressure injuries, especially when long periods are spent seated or recumbent, users must regularly shift position. With impaired sensation in the area, being proactive in skin care is essential and this means remembering to manually offload or shift seating position around to avoid tissue damage.
How?
Automating this offload maneuver makes daily life more comfortable and the Kalogon Orbiter Smart Cushion manages this throughout the day, releasing attention for other activities. The device, which analyzes pressure points in real-time, adjusts the user's seating position so that blood flow through at-risk tissues is maintained, thereby avoiding damage and pressure sores from developing. There's also a smartphone app that helps users and their caregivers customize according to needs. For example, settings can adjust for different activities such as typing, or even make dozing in the wheelchair safer and more pleasant.
What is Success?
Although there hasn't yet been a broad user study, early Kalogon Orbiter Smart Cushion users have reported success. A press release from Kalogon notes "significant improvements in overall comfort, accelerated healing, and an ability to sit two times longer". This feedback also reached the Department of Veterans Affairs; the medical device is under evaluation through in use in 20 VA hospitals in the United States.

Early user feedback has also attracted seed funding success and in turn, an article in Tech Crunch. Kalogon raised $3.3 million in seed funding as well as federal support from the US Air Force. The most important metric of success however, is from users of the Smart Cushion itself. "Kalogon is freedom!"