This is the breadcrumbs block. Breadcrumb will populate on actual page.
Same But Different
Praxis exists to lead global collaboration in spinal cord injury research, innovation and care. We translate knowledge to bridge health evidence with real-world delivery. The word praxis means the practical application of a theory – moving knowledge into action. We measure our success through impact, how Praxis makes a difference to the SCI community.
Indigenous Canadians experience greater challenges living with spinal cord injury (SCI) than the rest of the population. Since our unique Praxis model revolves around partnership, we're working with Indigenous researchers and communities in order to prioritise and accelerate research and innovation that is relevant. Praxis initiatives include contributing to Indigenous academic research positions, gathering clinical data on SCI from Indigenous patients, and establishing connections with communities to bridge gaps in connection and engagement.
Why?
Inequity in care for people living with spinal cord injury (SCI) in Canada isn't confined exclusively to geographical location. Indigenous people with lived experience of SCI (PLEX) face barriers to diagnosis, care and support that often remain unrecognized and unacknowledged. Our work with Indigenous and research communities seeks to better understand these challenges and collaborate to find solutions.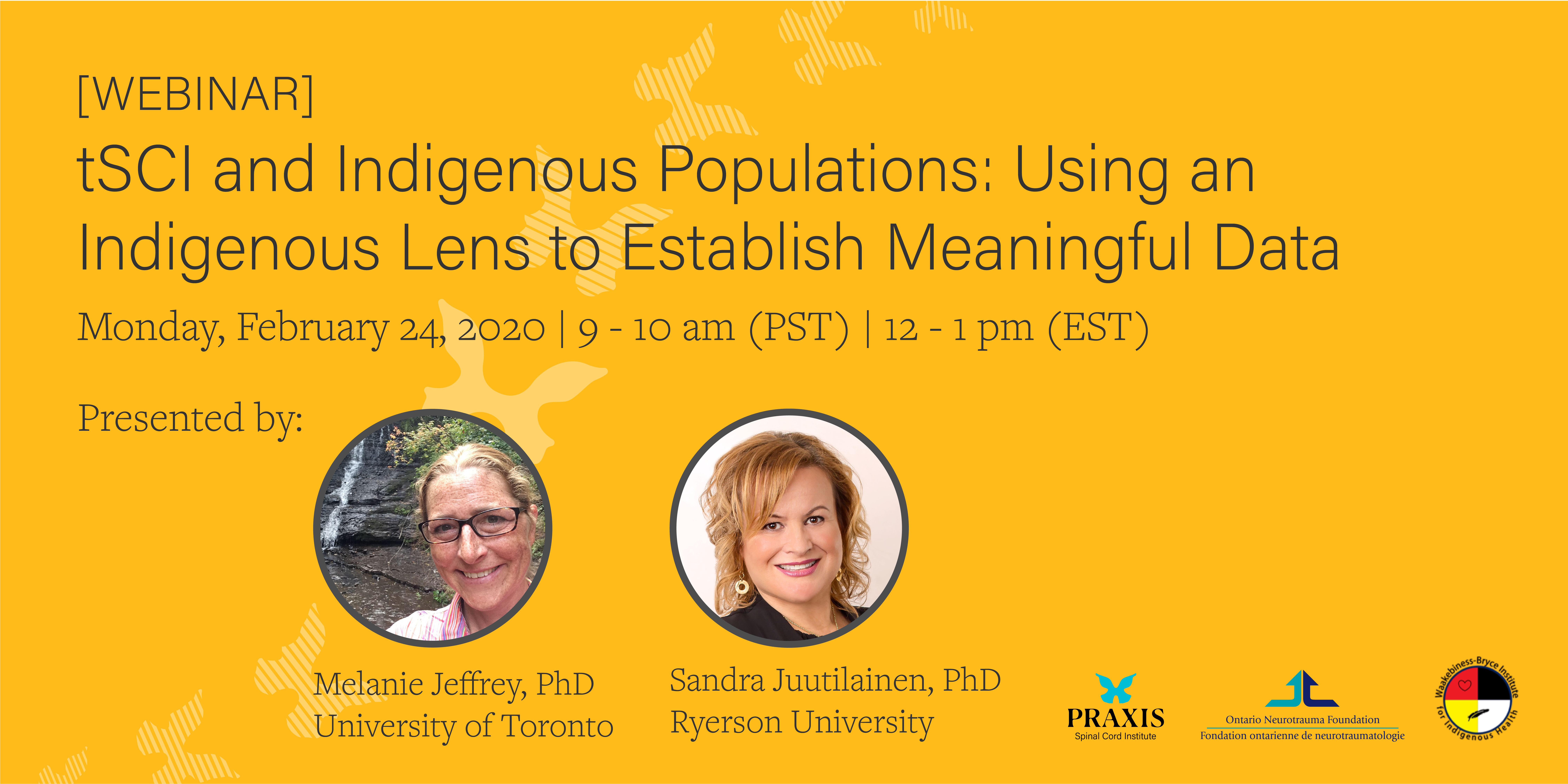 How?
Praxis initiatives include:
Support for Indigenous academic research positions (two post-doctoral research positions; one tenured professorship)
Growing relationships with communities to bridge gaps in connection and engagement (Praxis Indigenous Peoples' Liaison)
Establishing ethical frameworks and understanding cultural implications to establish a firm foundation that ensures ongoing clinical data collection on SCI from Indigenous people is meaningful, relevant and respectful to the communities involved
Praxis is supporting the Canadian SCI research network in answering research questions relevant to Indigenous populations using data from Praxis' SCI registry (RHSCIR). In order to accomplish this, Praxis is supporting foundational research that seeks to engage fully with Indigenous PLEX and their communities.
Within Praxis, the PLEX Team includes an Indigenous Peoples' Liaison who facilitates connection with Indigenous communities and networks. This is a key role as it lays groundwork and support for research activities that will inform SCI clinical care and diagnosis. At the academic level, Praxis supported the establishment of two post-doctoral positions and a professorship at the Waakebiness-Bryce Institute for Indigenous Health (WBIIH), at the Dalla Lana School of Public Health, University of Toronto.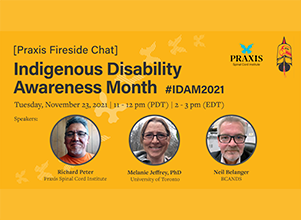 What does Praxis support mean to you personally, to your research, and to the communities impacted by your work?
Dr. Melanie Jeffrey, post-doctoral researcher WBIIH: "Praxis wanted data from Indigenous communities; however, there was no understanding of the reticence in handing over data at the time. Also, we need a knowledge of barriers, and understanding that they vary with geolocation and also who you are.
Impacts for Indigenous health data governance in registries, biobanks need to be understood – there's a duty of care, responsibility towards data that acknowledges and acts on ethical concerns and cultural boundaries.
Praxis support for this stage of the research has meant that we've been able to focus primarily on exploring and understanding Indigenous needs, especially around issues of self identification, government interaction and so on. Praxis is helping reframe the questions, and having an Indigenous liaison in position has been key."
Prof Billie Jo Hardy, Assistant Professor, WBIIH: "Praxis support for my professorship as a salaried position releases time and energy [from grant application] so I can concentrate on building on the relationships and network communities grown by the two postdoctoral positions. Relationships like these take time. From this foundation, we'll be able to explore Praxis data for Indigenous information along Indigenous priorities and focus. This means we can move from a deficit and prescriptive model towards actual priorities from Indigenous communities and PLEX. Eventually this research will lead to establishing SCI and neurotrauma clinical strategies that are meaningful for the Indigenous SCI community."
At the community level, Praxis Indigenous Peoples' Liaison, Richard Peter bridges the gap between community priorities and research, building connections and engagement so we can work together and address the unique needs of Indigenous populations.
He is the lead on building relationships and collaborations with the Indigenous community as well as SCI associations, health care providers, researchers and public policy decision makers to enable inclusion of Indigenous perspectives in SCI research and health care. As a multi-medaled Paralympian, Richard is also a valuable connection between Praxis and the world of sport at many different levels.
First Indigenous SCI Gathering: November 4, 2022 – facilitated by Richard Peter
What would impact look like?
Acknowledging that there are differences and inequalities in experience of care, diagnosis, support and more among Canada's Indigenous communities is a first step in recognizing and acknowledging impact. By opening a dialogue that encompasses both academic research and community engagement, Praxis hopes to ensure that priorities come from the Indigenous SCI community. Alongside addressing inequity, ways of knowing and culturally important practices should be included in developing care and support strategies.