In conversation with Praxis SCI Accelerate cohort member Human in Motion Robotics (HMR)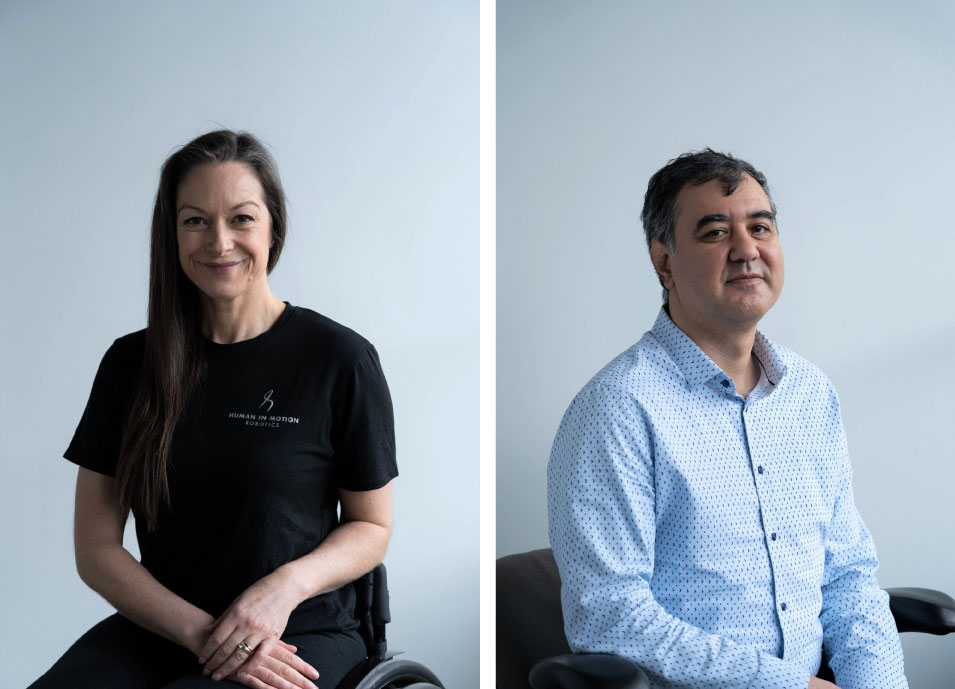 HMR Founder and President Dr. Siamak Arzanpour and Chloe Angus, Director of Human Centred Design and User Engagement, talk with us about the next generation of self-balancing, natural walking exoskeletons that offer a full range of motion.
What was the deciding moment in starting the company? What led you here in terms of education, experience, and people you met along the way?
Dr. Siamak Arzanpour: The first time I saw an exoskeleton in action was at the 2014 Abilities Expo, which showcased the latest in mobility and adaptive technologies. I was working on two mechanical engineering projects at Simon Fraser University (SFU) at the time: an inflatable airbag system to prevent wheelchair user injury after falls and a pressure ulcer prevention cushion. I wanted to take the technologies from the lab to the next stage of development and went to the expo looking for partners and collaborators.
Seeing the enthusiasm of the exoskeleton users there was exciting. Then I realized the shortcomings. As one woman walked forward, I saw the motions were robotic. Assistants were helping her, so she wouldn't fall. My expectations for the technology were higher than this.
Chloe Angus: I was using state-of-the-art exoskeletons at local rehabilitation centres in Vancouver, Canada after being told I would never walk again. But the experience was frustrating because of the limitations with motion. I knew there had to be a better concept.
Siamak: After the expo, I talked with friends and colleagues about a different approach to exoskeletons. One of my colleagues and, later, HMR Founder and Chief Science Officer Dr. Edward Park had recently published a scientific journal article about a new idea: self-balancing, natural walking exoskeletons. Ed and I were both at the SFU School of Mechatronic Systems Engineering. Mechatronics is a new engineering discipline that integrates core knowledge from mechanical, electrical and software engineering to train engineers that can address the needs of today's industries. Think of a car with so many mechanical parts but it also composed of sensors, electronics, and controllers.
Together, we established a research and development team at SFU and began the development of the next generation exoskeleton, which would remove the need for arm supports, remove the need for a person to be alongside or behind the user and provide a natural human gait. My background is mostly mechatronics design, so I covered the design of mechanisms and motors. Edward's research was about gait stabilization. He brought algorithm development, sensor integration and software. Together, we covered the hardware and software requirements and then we worked with experts in orthotics and human interfaces.
Chloe: I learned about Siamak and Ed's work at SFU, and we met at the lab. I encouraged them to accelerate development so that the next generation exoskeleton would be available as soon as possible for people living with motion disabilities like mine.
Siamak: User experience was not on our team and we try to find the expertise that's needed. As someone who is very passionate about exoskeletons, Chloe taught us about user needs. We are fortunate to have her on the HMR team now as Director of Human Centred Design and User Engagement.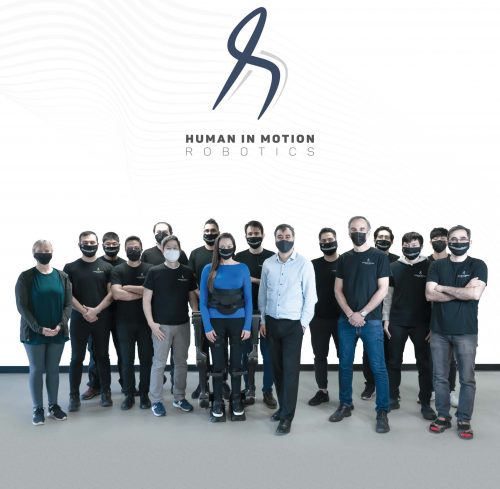 Angus, Arzanpour (middle) and the HRM team. Arzanpour, along with co-founder, Dr. Edward Park lead research and development and Angus focuses on user experience.