Jerome So Knows About Giving Back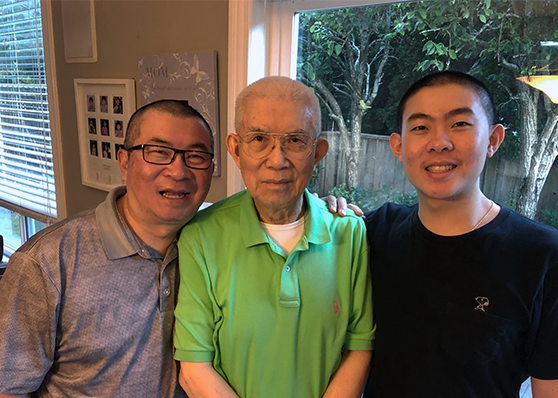 Jerome So completes his second term on the Praxis Spinal Cord Institute Board of Directors this June. With a toolkit of community-based values, passed down by mentors over his 25-year career, Jerome has a meaningful impact on Board culture. He knows the importance of giving back and avoiding 'bystander syndrome' to be a role model for the next generation.
Photo caption: Jerome, father and son with heads shaved last year at the ninth annual Fathers and Sons Shaving for the Brave.
"Twenty years ago, one of my dear mentors John Yuen told me about going door-to-door asking people to vote. People told him 'you don't need my vote,'" says Jerome, "and he replied, 'of the ten houses I've been to, you're the ninth one saying that. So if everyone's saying that then who is going to do it?'" Jerome wasn't going to be one of the ninth.

Ten years ago, he found himself thinking it was time to start giving back. He wanted to train his Labrador Retriever as a therapy dog at BC Children's Hospital Foundation. There was no formal program anymore however because of the potential health risks to the kids, the Foundation suggested another challenge: a fundraiser. Jerome then became the founder of Fathers and Sons Shaving for the Brave, an annual event that raised funds over the next nine years.
Jerome balances a busy career at TD Wealth with an active family that loves ice hockey, cycling and tennis. It was sitting on the sidelines at his son's summer tennis camp that he met Praxis CEO Bill Barrable, whose son was also there. "You look like a doctor," said Jerome of Bill's magnetic reading glasses, and the conversation soon turned to the Institute.
Bill made an impression. After learning about the organization's vision of a world without paralysis after spinal cord injury and the important work it does to shorten the path for researchers to access funding Jerome joined the Audit and Finance Committee. Later he was a member of the Board of Directors and served as Chair on the Governance Committee. Jerome was so impressed by the people and leadership at Praxis that he stayed on the Board for a second term. "Sometimes the culture of the Board influences management, and management vice versa. That, I think, is a healthy Board, healthy management: one plus one equals three," says Jerome, "And Bill is the integral part of it." Strong mentorship has been a theme throughout Jerome's career. Tung Chan, a fellow resident of Richmond, BC, was particularly influential. Tung was a member of the Praxis (then Rick Hansen Institute) Board, CEO for S.U.C.C.E.S.S., and was invested into the Order of BC for serving with the greatest distinction. "He offered a different perspective to consider," says Jerome, "When going to a Board meeting, he'd give me different things to look for each time."
Research is a very important part of a process and it has to drive to some sort of measurable outcome for people living with spinal cord injury.
Tung also introduced the word 'praxis' into the well-cited model for translational research in spinal cord injury. The significance of the word, five years after the paper was published, could hardly have been anticipated – it became the focal point for the evolution of the Institute's identity.

In all the remarkable developments at Praxis over the last six years, for Jerome the name change was pivotal. Praxis is an ancient Greek word for taking theory into practice. "It's exactly what we do at Praxis," says Jerome. "It's like a railroad track. Suddenly it goes to new path, and that path represents our current identity and the future as well."
The other area where Jerome saw significant growth was in the increasing emphasis on commercialization at the Board level. "It's significant because, at the end of the day, what will be the outcome? Research is a very important part of a process and it has to drive to some sort of measurable outcome for people living with spinal cord injury.