Praxis Fireside Chats at ISCoS 2021
This is the breadcrumbs block. Breadcrumb will populate on actual page.
Join us in the virtual ISCoS Exhibition Hall for Fireside Chats at the Praxis booth. This year, we are hosting two conversations to support shared learning and collaboration among the global SCI community.
From Laboratory to Marketplace
Friday, October 1st, 10:30-11am PST
How do you assess if there's a market for an SCI solution? How do you ensure your solution is scalable?
With Arushi Raina, Praxis Director of Commercialization
Integrated Knowledge Translation (IKT)
Saturday, October 2nd, 12-12:30pm PST
What does IKT look like and how can we engage people with SCI more fully in research projects?
With John Chernesky, Praxis Consumer Engagement Program Manager and *special guest* Dr. Heather Gainforth, ICORD Principal Investigator and Principal Investigator, Integrated Knowledge Translation Guiding Principles: www.IKTprinciples.com
Learn how to navigate to Praxis Fireside Chats
On the VFairs ISCoS platform, go to the Exhibition Hall
Click on the Praxis Booth
Click on the "Chat" tab at the bottom right corner of your screen
The link will be posted in the Praxis Chat just prior to the event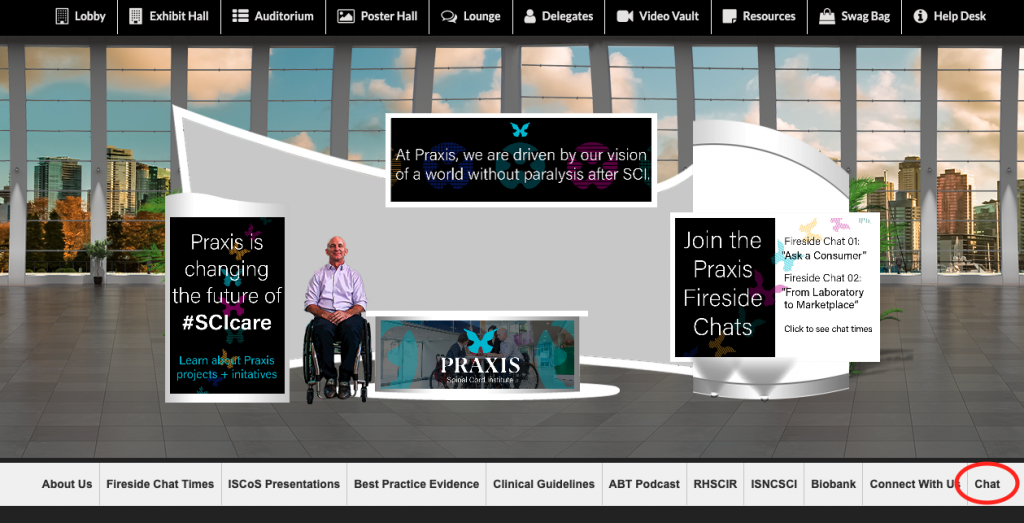 ---
Please arrive at the Praxis booth a few minutes beforehand. The link will be available in the chat room.
Please note: participants must be registered for ISCoS 2021 in order to attend these events.
Bring your curiosity and your questions!
---
Praxis Announces Abstracts at ISCoS 2021