This is the breadcrumbs block. Breadcrumb will populate on actual page.
Congratulations to Engineers in Scrubs Team Altruo for Winning the MMDC Award for Innovative Medical Technology
Praxis is proud to congratulate the Engineers in Scrubs (EIS) team at the University of British Columbia for winning the MDDC Human Factors Award for their innovative technology, The Altruo System.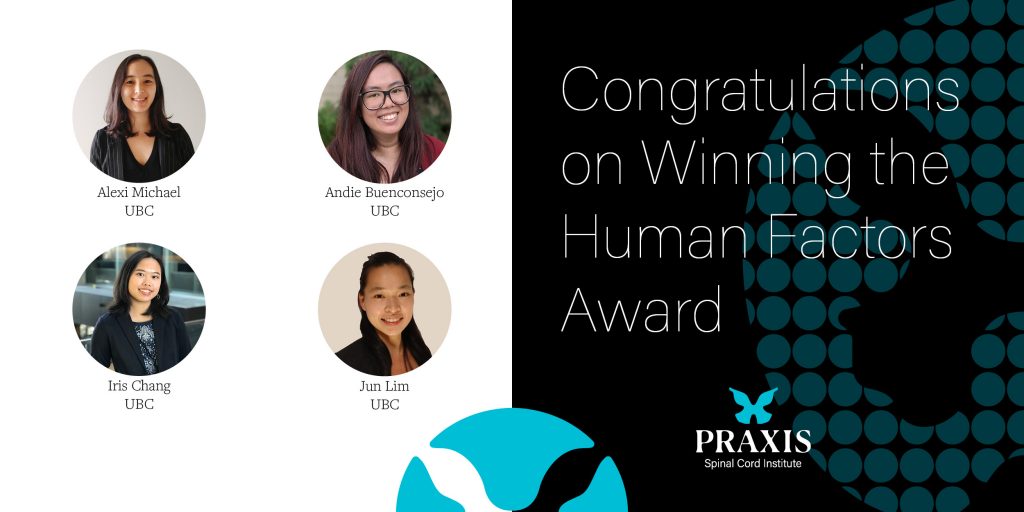 The Altruo System
Problem Identification
Commercially available urinary leg bags are indiscreet and pose accessibility issues. As a result, users have to adapt by wearing loose pants or skirts to hide their urine, purchasing customized bag covers, or incorporating expensive assistive emptiers for accessible disposal.
The Solution

Altruo aims to improve urine management for individuals with spinal cord injuries (SCI) by making urine collection systems more discreet and easier to operate with limited hand function. Urine storage is made discreet by hiding collection pouches within undershorts, which are easily hidden even with shorts, dresses, and skirts. Urine is disposed through a remotely controlled pump: When the collection pouch is full, the user can activate the pump through a phone app to begin disposal. The EIS team is also working on making the collection system smart. They plan to integrate a sensor so that the phone app can notify the user when they need to empty their bags.

The goal for the Altruo system is to allow users to integrate individual components of the system interchangeably with their own management setup (e.g. only integrate the pump and sensor with their preferred urine collection bags).
About the Award

The Medical Device Development Centre (MDDC) Awards for Excellence in Biomedical Engineering Student Design & Innovation encourages and recognizes student innovators in technologies relating to medicine and health care, including medical devices, systems, software, apps and assistive technologies. Specifically, the MDDC's goal with the awards is to encourage BC's best and brightest young innovators in the field of medical technologies and biomedical engineering to pursue their innovations in a rewarding and fulfilling field and career.

New Horizons: Innovative Technologies are Changing the Landscape of SCI Rehabilitation
SCI COVID AWARD WINNERS
The Praxis SCI COVID Awards were created in response to the impact of COVID-19 on the SCI community. These awards are expected to help develop COVID-19 resources to facilitate the care, health, and wellness of individuals living with SCI.