Praxis Staff Spotlight: Shannon Rockall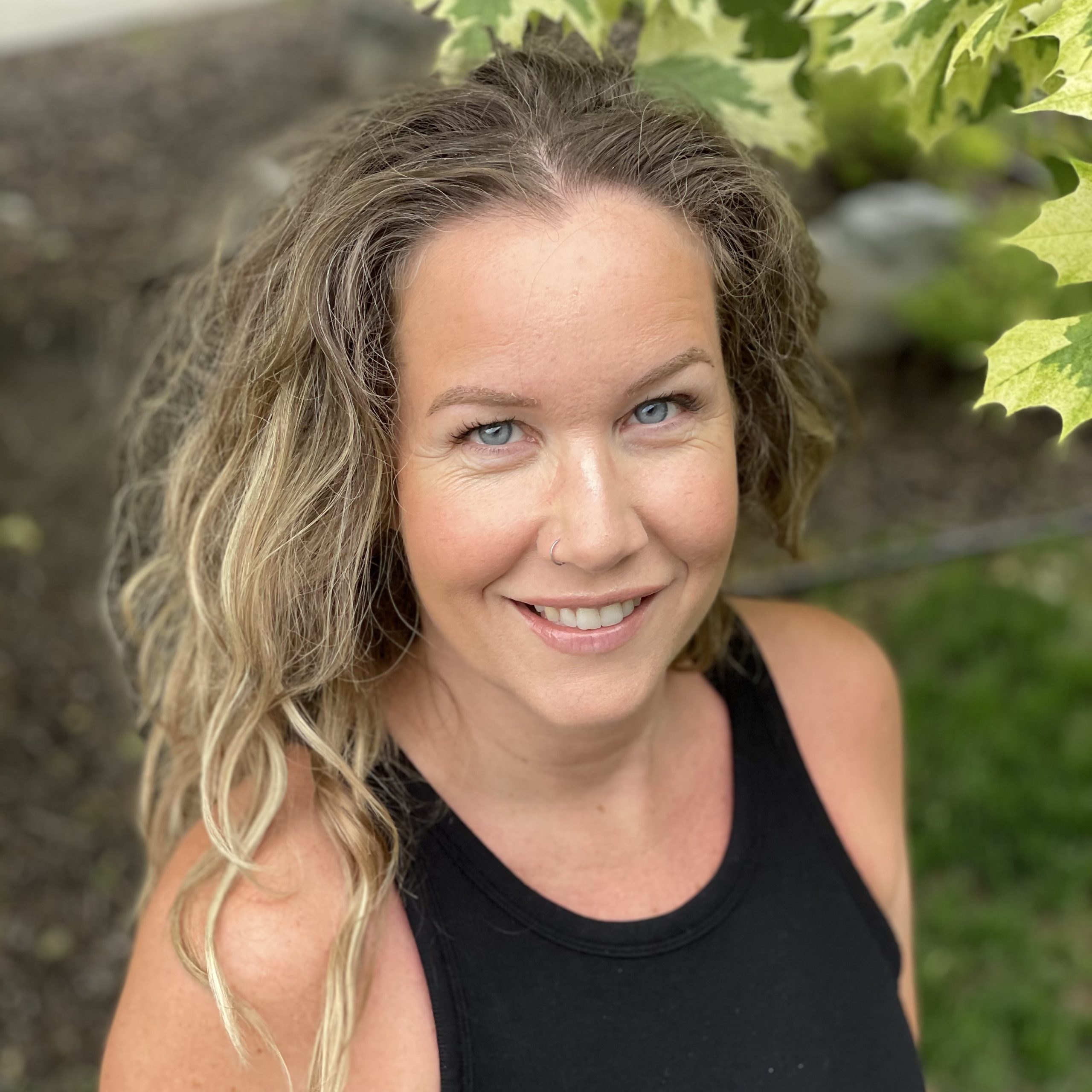 Meet Shannon Rockall, Regional Clinical Liaison, BC Interior at Praxis, who facilitates spinal cord injury knowledge translation workshops for clinicians in the regional areas of BC.
What do you do at Praxis?
My role with Praxis is very dynamic. As the Regional Clinical Liaison for the BC Interior, I have the opportunity to be involved in research projects, to learn about innovative technologies and to implement this through knowledge translation workshops. Together with James Hektner, Praxis PLEX Regional Community Liaison, we facilitate workshops for clinicians in the regional areas of the BC Interior, teaching them about various topics about spinal cord injury. A priority component of the workshops is the involvement of PLEX in providing the training to the regional clinicians.

How did you become interested in spinal cord injury? What brought you to Praxis?
I have been involved with the spinal cord injury (SCI) community since I was 14 years old and volunteered at a wheelchair basketball tournament in Ottawa, Ontario. That was 36 years ago (do the math- happy 50th to me this year!) I continued participating in wheelchair sports throughout high school and eventually studied to become an occupational therapist. I continue to be involved in the SCI community both personally and professionally.
In addition to my role at Praxis, I also work clinically in SCI. Throughout my career as a Occupational Therapist (OT) , I have worked at GF Strong Rehab Center and with individuals with SCI living in the BC Interior. Due to the specialized nature of my clinical work, I spend a lot of time on the road, travelling to see my clients in their homes and communities.

What impact do you think your work will have on people with spinal cord injury? How will it advance SCI research?
There is a large population of individuals living with SCI outside of the lower mainland. Specialized services primarily exist in the main centers. This requires extensive travel for some individuals living in rural communities which do not always have the financial or physical capacity to travel to the lower mainland for these services. Through the implementation of the workshops that James and I are doing, we are bringing specialized knowledge to these regional areas, with the hopes of improving knowledge and confidence of local clinicians to provide care to their clients with SCI in their home communities.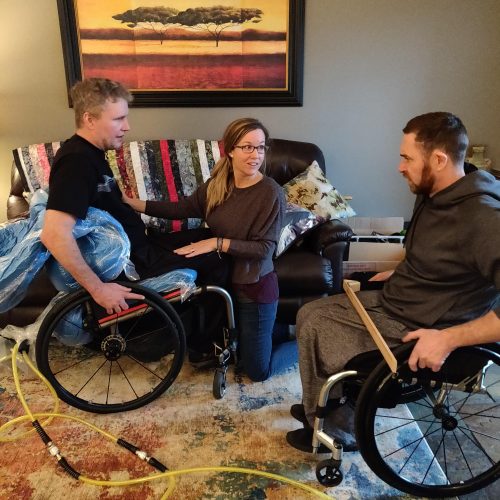 What excites you about your work?
I love the balance of my clinical work with my educator role with Praxis. I have always been intrigued with the medical complexity of SCI and the personal resilience of those living with the injuries. When I started in my career as an OT, I felt quite confident that I understood a lot about SCI. Jump ahead 25 years, and I'm still constantly learning new treatments, medical challenges, equipment etc. Most all that I have learned has been from my clients, living with SCI in sharing their challenges and opportunities.

What is the most challenging part of your work?
Time! So many things to accomplish, so little time!

How do you decompress after a long day in the lab/office?
Between my role at Praxis, my clinical work and my four children, I love to go running in the trails, climbing mountains and doing hot yoga.

What's your dream project?
In my dream world, I live on an Island in the Caribbean with my family, live off the land and spend my days reading, exercising and cooking! Or I would even settle for just living somewhere warm. This winter weather is really not for me.

What's your favourite word in the English language?
Dysdiadochokinesia – it's just fun to say, really

What's your favorite time of day?
Morning for sure! However, my children are getting older and staying up later. They like to engage in conversations, pondering topics such as world peace, starting around 11pm. This has significantly impacted my ability to wake up early.

What's inspiring you in life right now?
Summer is coming, right!?

The most adventurous thing you've done in your life.
Four kids in four years. It wasn't really a conscious decision to take on this adventure. The surprise twins at the end really added to the experience!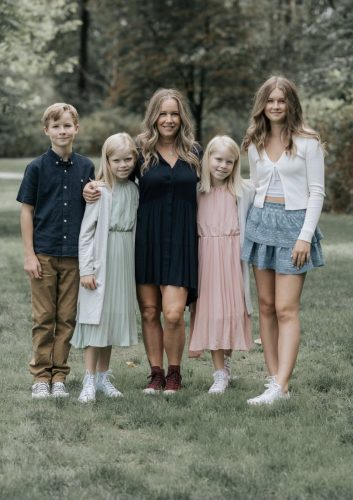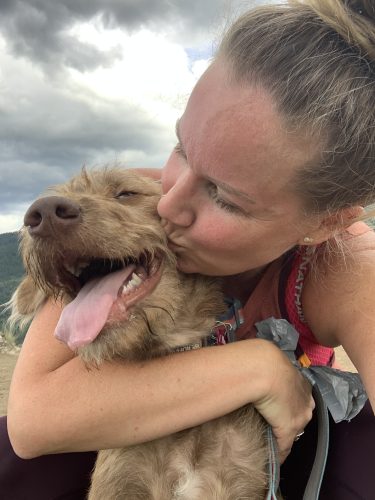 Dolphins or koalas?
Both please!

Mac or PC?
PC (with an iPhone 100%)

How do you unwind?
What's that?

What's your biggest pet peeve?
Someone saying they are going to do something and not doing it. If you can't do it, no problem; I understand. But if you say you're going to do it, you best get it done.

Where did you grow up?
I grew up in Ottawa, Ontario, which I blame for my dislike of winter and cold weather. I moved to southern Ontario and went to Brock University (St. Catharines) and McMaster University (Hamilton) before promptly moving to Vancouver upon graduation from OT school.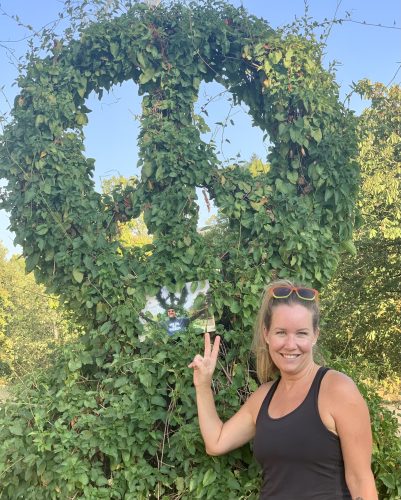 What's the best advice you've completely ignored?
Floss daily
What's the question you'd like to be asked more?
"How can I help move you and your family to a Caribbean Island? Can I pay for that for you?"