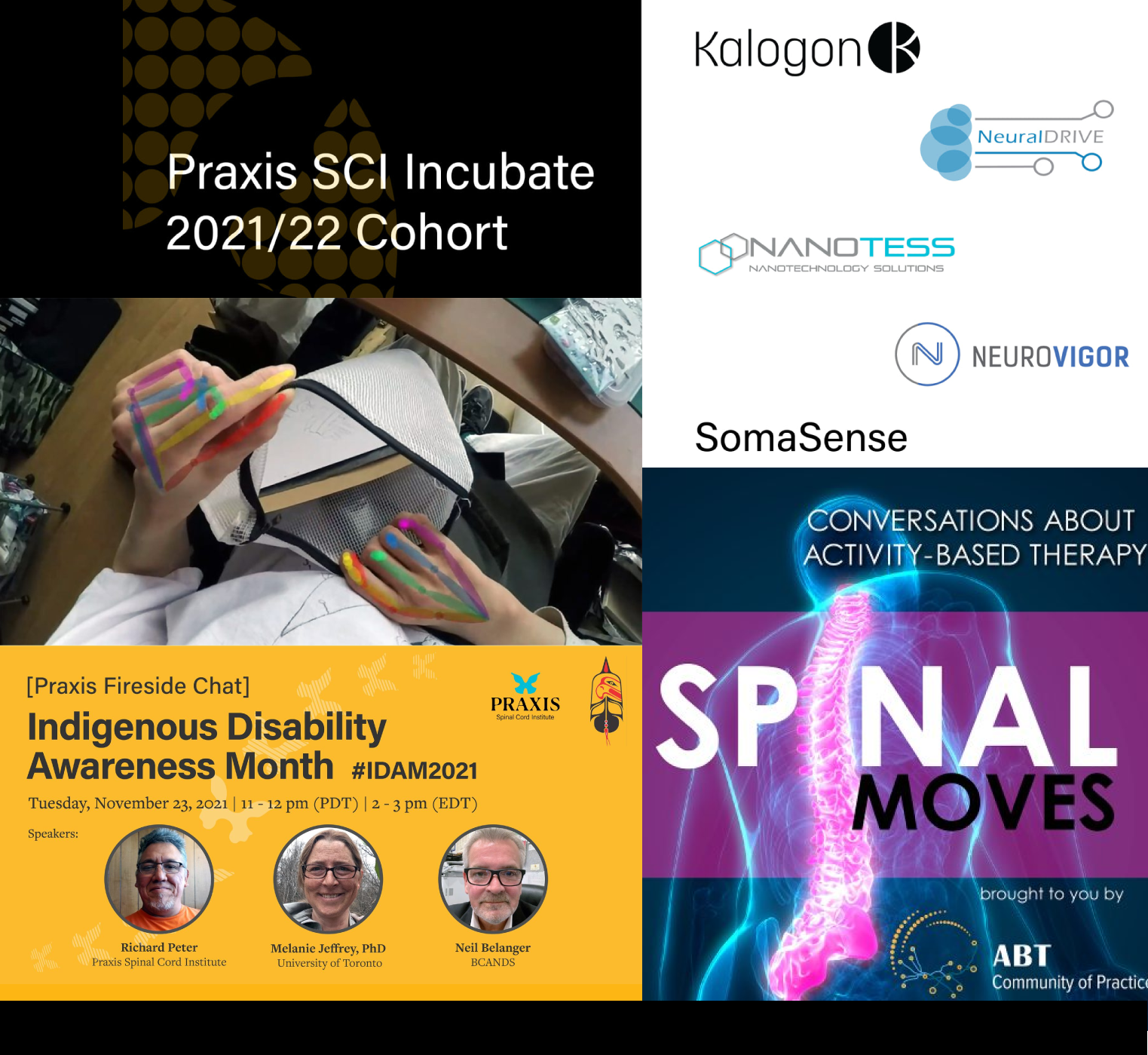 Together with our partners in the spinal cord injury community, Praxis accomplished many of our goals in 2021 to improve quality of life for people living with spinal cord injury.
Our work would not be possible without the generous support of our funders and donors. We thank you and look forward to continuing to make an impact in 2022.
We are proud to share these highlights from the Institute.
1. Improving Awareness of Research and Care in Indigenous Communities. In recognition of Indigenous Disability Awareness Month in November, Praxis signed a proclamation with BCANDS to work towards a Canada that is inclusive, equitable, and accessible for everyone. To support this initiative and discuss some of the barriers Indigenous people with SCI face, Praxis hosted an intimate Fireside Chat facilitated by Praxis' Indigenous Peoples' Liaison Richard Peter and special guests Melanie Jeffrey, Assistant Professor at the University of Toronto's Centre for Indigenous Studies and Neil Belanger, Executive Director at BCANDS. Watch a recording of the Fireside Chat.
2. Developing the Pipeline for Innovative Technologies. Praxis' Commercialization program was founded on the need to address the critical shortage in commercial, readily-available technology to serve people with spinal cord injury, their families and communities. After the successful launch of the Incubate and Accelerate programs in 2020, both programs introduced another nine companies to the programs, providing support in funding, mentorship and market strategy development. Meet the 2021 cohorts for the Incubate and Accelerate programs.
3. Podcast on Activity-based Therapy. Launched by the Praxis-supported Activity-based Therapy Community of Practice (ABT CoP), Spinal Moves is a Canadian podcast dedicated to raising awareness of ABT. In the first season, Hope Jervis Rademeyer and Anita Kaiser of the KITE Research Institute chat with people living with spinal cord injury, clinicians who work in neurological settings, and researchers who study activity-based therapy. Listen to the podcasts, available in English and French.
4. Innovative Tools for Spinal Cord Injury Rehab. In January, Praxis and MaRs Discovery District announced the finalists of the Spinal Cord Rehab Challenge. The competition challenged research innovators to propose new tools to measure rehabilitation activities and their impact on function in individuals with SCI. $100,000 was awarded to the top finalist, the KITE Research Institute. Finalists Holland Bloorview Kids Rehabilitation Hospital (Pearl Interactives) and NCB-Lab at the University of Alberta each received $50,000. Read more about these exciting innovations.
Pictured left, clockwise: 2021/22 Incubate cohort companies, conversations about ABT in Spinal Moves podcast, Praxis Fireside Chat in support of Indigenous Disability Awareness Month.